BLOOM & BLOOM LLP
2017 Charity Drive
This year, the annual Bloom & Bloom LLP "charity drive" is very proud to sponsor the Wortman Lung Cancer Foundation (WLCF): http://www.wortmanlungcancerfoundation.org
Linda Wortman and her husband Jerry Wortman cofounded WLCF in 2014. Linda, a never-smoker, survived lung cancer and with just half a lung has run a 5K race in all 50 states since 2012. WLCF's Running Lungs Races and National Healthy Lungs Research Project raise support and awareness of Lung Cancer (the leading cause of cancer deaths in the US). Help us help them at the Bonneville Salt Flats land speed trials this summer. Read about the Bloom & Bloom Bonneville Challenge below.
WLCF at Bonneville SpeedWeek and the World of Speed during the Summer of 2017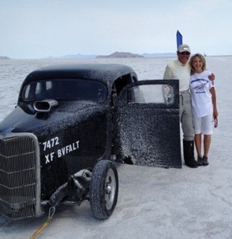 "Hot Rod" Jerry Wortman is a retired airlines Captain so it is most fitting that he will be piloting a black supercharged '35 Ford coupe on the "The Salt". This is another attempt for this particular ride to break another land speed record at Bonneville this summer.
Not to be out done, Linda "Lakester" Wortman, will be driving a specially prepped 1949 Ford Pickup truck at Bonneville.  As you can tell, Linda is no ordinary woman and this truck is no ordinary mule. This same truck set a land speed record at the East Coast Timing Association (ECTA) Ohio Mile meet this April at a top speed of 144.5087 MPH!!! 
Come join us at SpeedWeek 2017 as we support Linda and Jerry as they attempt new records in their old rides. The Bloom & Bloom team will help crew for Linda and Jerry at the Bonneville Salt Flats August 12th through the 14th, so come out on "The Salt" or signup for our "record breaking" celebration dinner for WLCF during SpeedWeek. 
2016: Jerry Wortman set a new land speed record in the '49 Ford Pickup (XXF BMP class) on Tuesday August 9 at Bonneville!
Richard Bloom, CPA aka The Motorhead CPA
Email: rbloom@bloomandbloom.com
See and hear Linda's story:  http://www.wortmanlungcancerfoundation.org/linda/
WLCF Lung Cancer Awareness: http://www.wortmanlungcancerfoundation.org/awareness/
BLOOM & BLOOM LLP, driven to excellence!